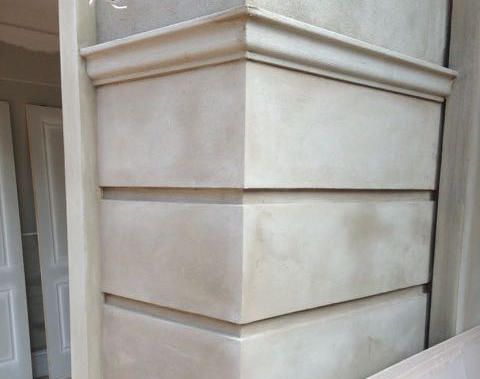 Rendering
Rendering is the technique of applying a sand and cement mix to a wall to give it a certain look. If you have a walk down any street in Adelaide, you may find walls in all shapes and forms – from float finish walls, to sponge finish, pebble dash, bag off and smooth walls.
We can achieve many unique and individual styles of rendering by changing the type of sand, the cement or the mix ratio.
Rendering also includes creating bands around windows, doors, window cills and plinths.
At Gagliardi Bros, we can incorporate the supply and installation of decorative moulds in our rendering service, thereby, giving your project the complete look!
Rendering vs Solid Plastering
Rendering is better suited for outdoor designs and structures than solid plastering. The use of materials such as cement, lime, gypsum and sand make it possible. The completed design generally includes more cement than that of solid plaster. Therefore, it is stronger and better at withstanding extreme weather conditions like sunshine, rain and hail.
The strength of the material used for rendering enables it to last longer than plaster in outdoor areas. It does not crack under the pressure of exposure to heat and rain for long duration of time.
Another benefit of using render on your home or business' exterior is the thermal and sound protection it provides for interior structures.
Many finishes to suit your taste
Due to the composition of render, the finish is generally rougher than that of plaster. However, we can manipulate the render to give it a specific finish including:
Trowel Finish: Skimming the final coat using a wooden float to produce a smooth dense surface.
Bagged / Patterned Finish: Rubbing a ball of damp hessian into the surface which produces patterns depending on the style of rubbing.
Sponge Finish: Mopping or sponging the hardened surface with a damp sponge achieves a sponge textured finish.
Roughcast Finish: Throwing and flicking the final coat onto the surface giving it a roughcast finish. No re-touching is carried out, the way it lands is how it looks!
Textured Finish: Adding a coarser aggregate to the mix for the final coat.
"We take pride in our workmanship and work with our clients to achieve the best results - client satisfaction is paramount to us"
CONTACT US
Gagliardi Bros Pty Ltd
Carlo Gagliardi: 0415 818 262
Phone: (08) 8336 3835
Email: admin@gagliardibros.com.au
A.C.N. 119 825 811
Lic: BLD 197577
A.B.N. 69 119 825 811